Hi, I'm Allan Ward and I'm the founder of Strictly Guitar. I've been playing guitar for 30 years and over that time I've studied a variety of different styles and techniques.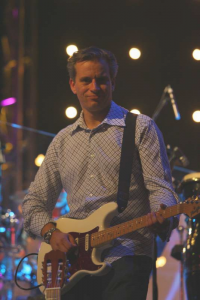 I started Strictly Guitar in early 2010 to provide resources and ideas to people who love playing guitar. Whether you're a beginner or you've been playing for a while, you're sure to find some valuable information here.
We'll provide links to some of the best guitar lessons on the web, as well as books and gear to help you become a better player.
I've played a huge range of music over the years. I started off loving blues and rock, started learning some jazz and then funk guitar for many years.
Currently, I play guitar at a local church here in Adelaide, South Australia, and do the occasional bit of recording and songwriting.
I'm always looking for ways to improve, so as I find videos or lessons that are useful for me, I try and post them here.
I'm also teaching my 11 year old son to play guitar so I'm frequently looking for beginner guitar lessons for him.
Browse the site to get some ideas to improve your playing, and don't forget to bookmark Strictly Guitar so you'll remember to come back!
And don't forget to subscribe to our exclusive FREE course – 7 Chords In 7 Days where you learn a new chord each day for a week. We also send regular email updates to our subscribers as well as exclusive subscriber-only content.
You can subscribe right now and learn a new chord within minutes by entering your email address into the box below.
[ois skin="Home Page Signup"]

"CERTAIN CONTENT THAT APPEARS ON THIS SITE COMES FROM AMAZON SERVICES LLC.
THIS CONTENT IS PROVIDED 'AS IS' AND IS SUBJECT TO CHANGE OR REMOVAL AT ANY TIME."