I've finally got around to learning how to play Lonely Boy by The Black Keys. I've heard it so many times, but have never got around to working it out.
So a couple of nights ago I sat down, listened to the CD and worked out the guitar chords. The guitar chords to Lonely Boy are actually very simple. In the lesson below I'll show you the chords.
Lonely Boy Guitar Chords
The main chords are E, G and A. That's it! If you can play those three chords you'll be able to play the song.
Of course, there's a few extra bits, including the cool guitar riff at the start.
Here's the Lonely Boy Guitar TAB to help you learn the song.
(note: there's no simple way to insert TAB into a website an retain the formatting! I've inserted it here as a picture file).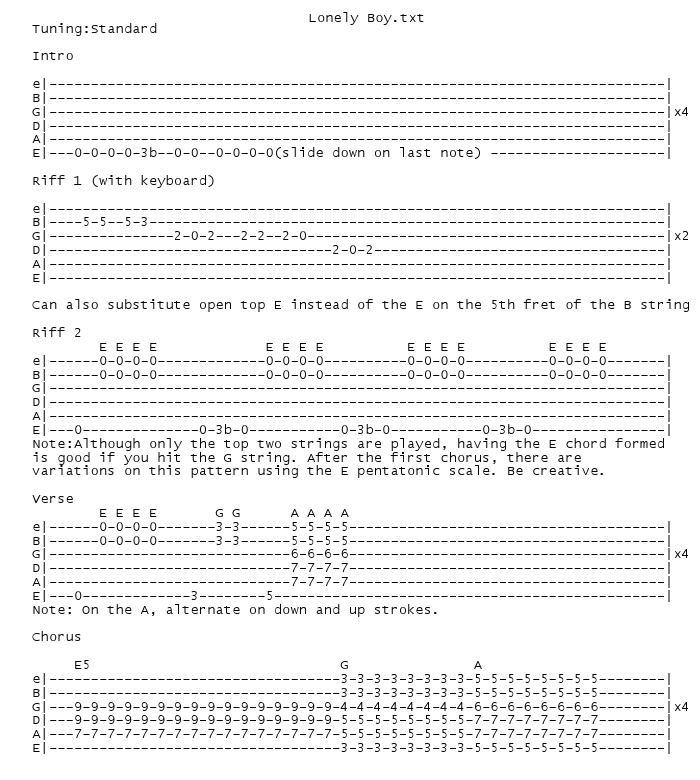 There are a couple of ways to play the first guitar line. On the recording, it sounds like The Black Keys are using a Digitech Wammy pedal to do the divebomb sound on the low E. Another way to play this is to sound the last low E an octave up on the 12th fret and slide down from there.
Here's a video of Marty from GuitarJamz showing you how he plays it.
Hope you've enjoyed this lesson. Lonely Boy is a great song, and is so simple to play. I've been teaching it to my son and he's loving being able to play it with the few chords that he's learnt so far.
The album is worth a listen. Gold On The Ceiling is the current single here in Australia. My prediction for the future – the return of the fuzz box!

Leave a comment below and share this on Facebook (please!).

If you liked this article, you may also like these similar posts:
Like what you read? Check this out!
Download 7 Chords In 7 Days - our FREE guide that will help you become a better guitarist

Instant access

Learn a new chord every day

Impress your friends with your new chord knowledge!
Enter your name and email below to get Instant Access!