I'm a big Ed Sheeran fan and recently I worked out the chords to his song Lego House. In this lesson I'll show you how to play the song and you'll be able to access the chord chart and chord diagrams.
Ed Sheeran – Lego House – Basic Guitar Chord Shapes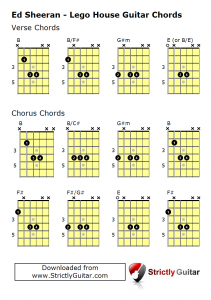 I love the simplicity of Lego House. When Ed Sheeran plays it, he's in the key of B major, and uses one basic chord shape throughout the song.
He moves the bass note around to give different chord tones, but his third and fourth fingers stay in the same place, on the same fret.
The basic chords are shown in the diagram to the left. If you prefer, you can download the pdf of the chord shapes from this link – Lego House Guitar Chords – Ed Sheeran
The B chord shown on the top left of the chord sheet is the main chord.  He moves his 1st and 2nd fingers to different places on the E and A strings to change the chord.
The verse chord progression goes like this:
|B        |B   B/F#|G#m    |G#m  E  |
In this progression the B/F# is a passing chord – the first B is played for 1 1/2 bars and the F# is used for beats 3 and 4 of the 2nd bar.
The Chorus chords use the same concept, but with different passing notes.
The chorus goes:
|B       |B   B/C# |G#m      |G#m B   |F#     |F#  F#/G#|E       |E   F#  |
There is a Bridge which goes G#m to F# to E  then F# to E before  finishing on the F#.
I mention in the video, when Ed Sheeran goes back to the chorus for the last couple of times, he tends to play full chords to build the intensity of the song.
Here's the video lesson to show you how I play Lego House by Ed Sheeran on Guitar.
I've written a chord chart for the song – it's the chords and words together. To get access to it, please hit the button below to share this article on one of your social media accounts – Facebook, Twitter etc. You get access for free – you only have to pay with a share!
Share this lesson on social media to get instant access to the chord chart
I hope you've enjoyed this lesson. Please leave a comment below to let me know what you think. And don't forget to subscribe to our free course –
7 Chords in 7 Days
.
If you liked this article, you may also like these similar posts:
Like what you read? Check this out!
Download 7 Chords In 7 Days - our FREE guide that will help you become a better guitarist

Instant access

Learn a new chord every day

Impress your friends with your new chord knowledge!
Enter your name and email below to get Instant Access!