Jazz Guitar Lesson – click on the image below for more information.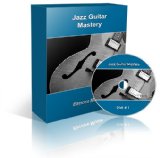 Learn Jazz Guitar Mastery
Over 25 step by step video lessons on your PC in .MOV format that works on your desktop, iPad, iPhone or tablet
Fully qualified guitar instructor teaching you and PDF documentation with detailed instructions included for you to print
Learn anytime anywhere (no hourly guitar lessons / scheduled commitments) So Take it with you when you are travelling
Email support provided in case you have questions
Jazz Guitar Lesson
We recommend that only intermediate and advanced guitar players will be able to understand the techniques and concepts used through the course.
Not sure which category you fall under? Well basically, if you can hold chords, play a tune and have a sound knowledge on the basics of guitar & scales then Jazz Guitar Techniques will be suitable.
With our standard step-by-step instructions and video 'Jazz Guitar Mastery' is what you need to successful learn to master Jazz guitar.
We give you our qualified tutor plus the need to know topics to help you learn quicker and with minimal stress doing so.
Jazz Guitar Mastery
Click on the button for more Jazz Guitar Lesson information and reviews.