Guitar
Guitar – click on the image below for more information.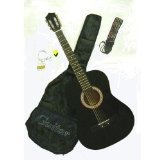 Full wood construction
Glossy black finish
Carrying case
steel strings
Shoulder strap
Guitar
This 38″ guitar has an attractive Black color finish; it's a complete combo package that comes with a guitar case, extra set of strings and a tuner. It's great for beginners; you'll be playing your favorite tunes with practice and dedication.
FEATURES: Full wood construction; Shoulder Strap; Extra set of strings; Great gloss finish; Easy to use tuner; Sturdy carrying case; 38 inches in length; Steel strings; Perfect for beginners
Black Acoustic Guitar with Extras Combo Kit Beginners
Click on the button for more Guitar information and reviews.
If you liked this article, you may also like these similar posts:
Like what you read? Check this out!
Download 7 Chords In 7 Days - our FREE guide that will help you become a better guitarist

Instant access

Learn a new chord every day

Impress your friends with your new chord knowledge!
Enter your name and email below to get Instant Access!