Guitar Lessons – click on the image below for more information.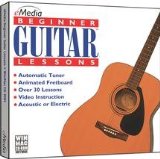 Teaches guitar through step-by-step lessons easy to follow lessons.
Animated fretboard displays fingering and make learning easy.
Includes full-motion video of Ph.D. guitar instructor.
Includes automatic tuner, recorder, metronome and chord dictionary.
Everything you need to begin playing!
Guitar Lessons
eMedia Beginner Guitar Lessons is the unique solution that provides all the tools you need to begin learning to play guitar right away. Learning is made easy through 31 step-by-step lessons ranging from basics like stringing your guitar to a variety of strumming techniques. Full-motion videos with an on-screen teacher give life to the lessons, and an animated fretboard guides you through fingering for the songs and exercises. There's even an automatic tuner (for visual interactive tuning of your guitar), as well as other valuable accessories including a recorder, metronome, and chord dictionary with playback.
Beginner Guitar Lessons
Click on the button for more Guitar Lessons information and reviews.

If you liked this article, you may also like these similar posts:
Like what you read? Check this out!
Download 7 Chords In 7 Days - our FREE guide that will help you become a better guitarist

Instant access

Learn a new chord every day

Impress your friends with your new chord knowledge!
Enter your name and email below to get Instant Access!